We are honored to serve the men and women who protect our freedom.
Free Premium Checking
We waive the monthly fee and pay dividends on your checking balance.
Debit card benefits
Get an Instant Issue card free of charge and cash in with our rewards program.
Rate advantages
Qualify for discounts on auto loans and higher earnings on Share Certificates.
Other perks
Enjoy safe deposit box discounts, free foreign ATM use, and more.
Your country thanks you. And we do, too.
Being active-duty military often means making sacrifices - frequent moves, time away from family, difficult deployments. At South Carolina Federal Credit Union, we feel it is time you were rewarded for your courage and commitment. By simply presenting your active-duty* military ID, you receive a Premium Checking account with a wide range of benefits.
Monthly Premium Checking fee waived.
Tiered dividend payments starting at $2,500.**
Premium Share Certificates available.
0.50% APR*** discount on vehicle loan rates.
Debit Card uChoose Rewards program access to earn points every time you choose "credit" for purchases with your debit card.
Priority member service over the phone.
$20 per year discount on any size safe deposit box.
Free Instant issue debit card, with a variety of colors to choose from.
Free international ATM use (no charge from us - surcharges from ATM owner may apply).
Free cashier's checks.
| From | To | Dividend Rate | Annual Percentage Yield1 |
| --- | --- | --- | --- |
| $2,500.00 | $9,999.99 | 0.05% | 0.05% |
| $10,000.00 | or more | 0.10% | 0.10% |
Thank you for your interest in South Carolina Federal Credit Union.
This form is not a secure form of communication. If any confidential information such as account numbers, SSNs, etc. is necessary, it will not be obtained until we have contacted you. This is another way South Carolina Federal works to keep your information secure.
Take advantage of our Military Friendly Checking account.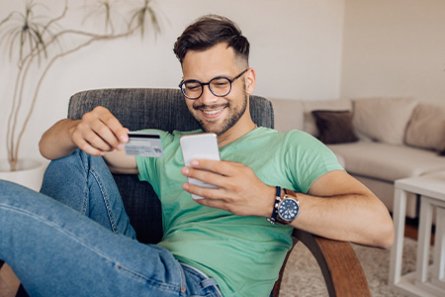 Turn every purchase into a rewarding experience.
Enjoy financial flexibility with low rates, cash back and reward credit card options.
*
Military benefits are valid for three years and can be renewed every three years by presenting military ID or proof of active duty service.
**
Refer to dividend rates page.
***
Offer applies on external refinances only. Discount only available when payment is automatically deducted from Premium Checking.
1
Dividend Rates are accurate as of 4/7/2023. Rates are subject to change after account opening. Fees and withdrawals may reduce earnings on account.