Money management just the way you like it - high tech and no cost.
Totally free
We know you have other expenses and are still building up your finances.
Advanced tech
Online Banking and our mobile app make it easy to pay bills and deposit checks.
Versatile debit card
Shop online and in stores and access your accounts at thousands of ATMs.
Here for you
You are still learning about financial matters; we're always available.
Banking is as simple as pressing a few keyboard buttons with this checking account.
There are definitely advantages to being young. At South Carolina Federal Credit Union, for example, we offer members ages 15 to 25 a Simple Checking* account with zero monthly fees. And because your generation is tech-savvy, we invite you to download our app - it is also free - and manage your finances on-the-go with your smartphone or other mobile device.
Instant issue debit card to keep you on your way.
Free and unlimited branch and contact center services.
0.25% APR discount on vehicle loan rates.**
Free Online Banking and electronic bill pay.
Access to a nationwide ATM network.
Oops Refund*** entitles you to one overdraft fee refund per quarter; just tell us when you need it.
Getting Started
If you are 18-25, you can open your Simple Checking account over the phone or in person at your local
financial center
with an opening deposit of $25.
If you are 15-17, you will need to bring the following to your local
financial center
to get started:
A qualified adult for joint account ownership.
Tax identification number with proper ID (Social Security card or other government-issued ID).
One form of a current government-issued photo identification. Photo identification must include:

Picture
Signature
Issue date
Expiration date

Opening deposit of $25.
If you are 14 years old and under, the minor is not required to have a photo ID to establish the account. Instead, SC Federal requires that a Social Security Card or Military ID be provided in order to verify the minor's Social Security Number, plus an opening deposit of $25.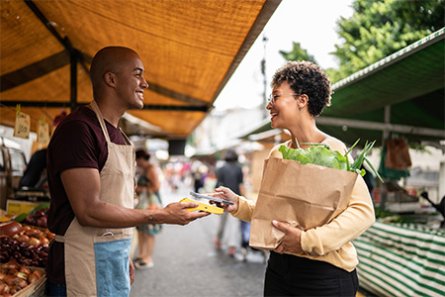 An easier way to pay.
Enjoy convenient, secure and contactless payments with a Digital Wallet.
Thank you for your interest in South Carolina Federal Credit Union.
This form is not a secure form of communication. If any confidential information such as account numbers, SSNs, etc. is necessary, it will not be obtained until we have contacted you. This is another way South Carolina Federal works to keep your information secure.
*
A savings account with the minimum deposit of $10 is required for membership.
**
Offer applies to external refinances only. Discount only available when payment is automatically deducted from Simple Checking.
***
Refund requests accepted by phone or in person at any financial center. Can be used for courtesy pay fee, non-sufficient funds (NSF) fee, stop payment fee, or foreign ATM fee.