Grow your savings with higher rates and total confidence.
Tiered dividends
Bigger balances can take your earning power to higher levels.
No time commitment
Start earning money on Day One and make withdrawals as you wish.
Convenient access
Make use of your Money Market funds through special checks, and digital banking tools.
Total security
The National Credit Union Administration insures all deposits up to $250,000.
Put your money in position to work even harder with higher yields.
There are countless saving strategies and investment tools available, but you may prefer to keep it safe and simple. Our Money Markets out-earn traditional savings accounts, provide fast access to funds, and come with assurances that your funds are always secure.
Begin earning dividends on balances of $1,000 or more.
Effective Date: July 28, 2023
| From | To | Dividend Rate | Annual Percentage Yield1 |
| --- | --- | --- | --- |
| $1,000.00 | $9,999.99 | 0.05% | 0.05% |
| $10,000.00 | $24,999.99 | 0.10% | 0.10% |
| $25,000.00 | $49,999.99 | 0.15% | 0.15% |
| $50,000.00 | $99,999.99 | 0.50% | 0.50% |
| $100,000.00 | $249,999.99 | 0.75% | 0.75% |
| $250,000.00 | $499,999.99 | 1.24% | 1.25% |
| $500,000.00 | $999,999.99 | 1.49% | 1.50% |
| $1,000,000.00 | or more | 3.20% | 3.25% |
Frequently
asked questions
View more
You can open an account by visiting a
financial cetner
, calling
(800) 845-0432
, or online. Here are some things to keep in mind as you begin the application process:
It will take about 10 minutes to open and fund your new account. You will need:
A valid driver's license or government-issued photo ID
U.S. Social Security Number or ITIN
U.S. checking account or credit/debit card to fund the account (please refer to Rates and Fee Schedule for details).
You must be a U.S. citizen or a U.S. resident alien.
The following accounts require personal attention, specific documentation and are not opened online: Trust, Individual Retirement Accounts (IRAs), estate accounts, business accounts, teen accounts and Kids Savings accounts. Please visit a financial center for assistance with these accounts.
Copies of cleared checks are available for up to seven years from the date they are posted to your account.

To obtain a check copy through Online Banking:
Log into your account.
Under the "Account Access" tab choose "View Transaction History."
If the check number appears in your transaction history, click on the blue hyperlinked check number; an image of the check will appear.
Checks are maintained through Online Banking six months after the cleared date.
Use our Secure Chat feature to complete your request:
Please log into Online Banking and click on the "Secure Chat" link for a live chat with one of our representatives.
If you wish to close your account, we ask that you visit a local
financial center
or
contact us
.
Please be advised, your account cannot be closed if you have an open credit card and/or loan with a balance. If the credit card and/or loan are paid in full, but still open, you will still need to sign documents to close those accounts.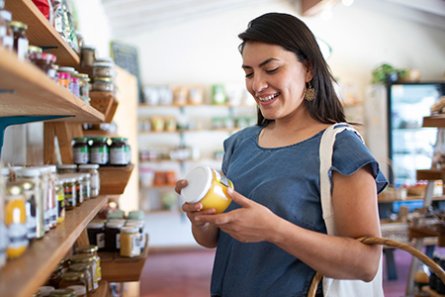 Managing your money made easy.
Simplify money management with flexible checking features that fit your lifestyle.