Jolly holidays start with a four-season savings plan.
Money for gifts - and more
Make as many deposits as you wish to build up your Christmas season budget.
Earn competitive dividends
Keep at least $5 in your account and we will add to the merriment with regular payments.
Track your progress
Balances appear on monthly statements, viewable in Online and Mobile Banking.
There when needed
Four free withdrawals during the year. ($5 for each additional withdrawal)
Bring more joy to the world of the people you care about with this savings account.
Everything that makes your family smile at Christmastime is worth saving for year-round. Our Christmas Club account helps you set aside cash for nice presents, festive meals, and heart-warming gatherings of family and friends. We automatically move your money to your Share Savings account on November 1 – just in time for the holiday shopping season.
| Account Type | Minimum Balance to Earn Dividends | Dividend Rate | Annual Percentage Yield1 |
| --- | --- | --- | --- |
| Share Savings | $150.00 | 0.10% | 0.10% |
| Christmas Club | $5.00 | 0.10% | 0.10% |
| IRA Savings | $100.00 | 0.20% | 0.20% |
Frequently
asked questions
View more
You can open an account by visiting a
financial cetner
, calling
(800) 845-0432
, or online. Here are some things to keep in mind as you begin the application process:
It will take about 10 minutes to open and fund your new account. You will need:
A valid driver's license or government-issued photo ID
U.S. Social Security Number or ITIN
U.S. checking account or credit/debit card to fund the account (please refer to Rates and Fee Schedule for details).
You must be a U.S. citizen or a U.S. resident alien.
The following accounts require personal attention, specific documentation and are not opened online: Trust, Individual Retirement Accounts (IRAs), estate accounts, business accounts, teen accounts and Kids Savings accounts. Please visit a financial center for assistance with these accounts.
Copies of cleared checks are available for up to seven years from the date they are posted to your account.

To obtain a check copy through Online Banking:
Log into your account.
Under the "Account Access" tab choose "View Transaction History."
If the check number appears in your transaction history, click on the blue hyperlinked check number; an image of the check will appear.
Checks are maintained through Online Banking six months after the cleared date.
Use our Secure Chat feature to complete your request:
Please log into Online Banking and click on the "Secure Chat" link for a live chat with one of our representatives.
If you wish to close your account, we ask that you visit a local
financial center
or
contact us
.
Please be advised, your account cannot be closed if you have an open credit card and/or loan with a balance. If the credit card and/or loan are paid in full, but still open, you will still need to sign documents to close those accounts.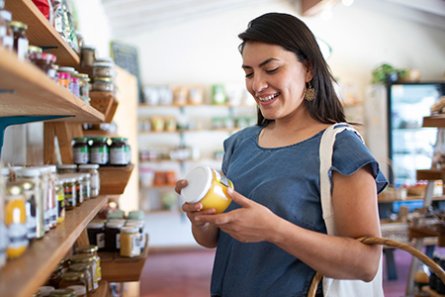 Managing your money made easy.
Simplify money management with flexible checking features that fit your lifestyle.