Steady returns and growth potential in one high-performance savings account.
More for your money
Money Markets generally offer higher rates than standard business savings accounts.
Tiered dividends
Bigger balances can earn your business even higher returns.
Fast access
Withdraw funds with checks, through Online or Mobile Banking, or at our financial centers.
Safe and secure
All deposits up to $250,000 are insured by the National Credit Union Administration.
Make your business savings work as hard as you do.
In a business climate where every dollar matters, a Money Market is a secure solution. With no minimum time commitment for funds, your business can enjoy higher dividend rates and still quickly access money for expenses, purchases, or other investment opportunities.

$1,000 minimum opening deposit
Money Markets typically have higher rates than traditional savings accounts
Our multi-tiered rate system rewards bigger balances
Make up to six free withdrawals per month*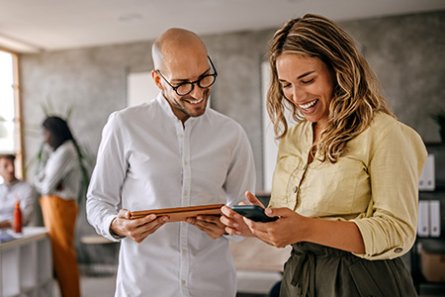 Get the credit card that gets down to business.
Purchasing power and cost control combine in this business rewards credit card.