Get the credit card that gets down to business.
No annual fee
There is no annual fee for using our Mastercard®.
Competitive rates
Keep interest costs under control with this card.
Points for every dollar you spend
Points accumulate so you can redeem for valuable rewards.
Manage your account anytime
You always have access to Online Banking, plus emergency assistance.
Purchasing power and cost control combine in this business rewards credit card.
From everyday purchases to supplies to client dinners and more, you need a credit card that provides flexibility to meet various needs throughout your workday. South Carolina Federal Credit Union's Mastercard Business Credit Card lets you access funds conveniently at a competitive interest rate.
First five employee cards are free.
Set spending limits on cards and track all activity online or on your mobile device.
EMV smart chip technology provides added security.
Access funds through cash advances at ATMs.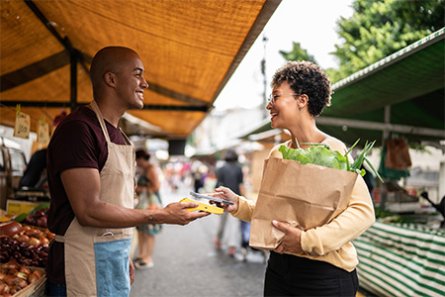 An easier way to pay.
Enjoy convenient, secure and contactless payments with a Digital Wallet.