Put your personal assets to work for your small business.
Attractive alternative
HELOCs often feature lower rates and longer terms than commercial loans.
Keep debt in check
Borrow precisely how much you need at any given time.
Flexible spending
Use funds for everything from inventory to repairs to covering periods of slow cash flow.
Easy access
Tap into funds with digital banking tools.
Leveraging your home's value can be a capital idea.
If you need to invest in your existing small business, you may not have to look far to find working capital. Your home can serve as collateral for a line of credit that can cover a wide range of business costs, from facilities renovations to equipment upgrades. A HELOC is often easier to qualify for and may come with lower rates than a traditional commercial loan.
Loan amount determined by the equity you have in your property.
Attractive interest rates.
Affordable monthly payments. Pay interest charges only, or a small percentage of the loan balance.
Easy access to funds through Online and Mobile Banking**, and at South Carolina Federal Credit Union financial centers.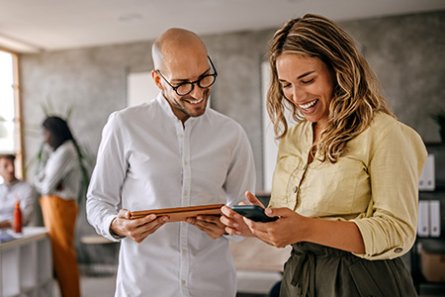 Get the credit card that gets down to business.
Purchasing power and cost control combine in this business rewards credit card.
*
Rate may vary based on individual creditworthiness. Terms and conditions subject to change without notice. Subject to credit approval.
**
All of our Mobile Banking products require an Online Banking login, a data plan with a wireless provider, and in some cases, enrollment into Bill Pay. Terms and conditions are available through Online Banking and must be agreed to before using service. South Carolina Federal Credit Union provides Mobile Banking as a free service. Consult your provider for any fees associated with your mobile web service, such as message and data rates.