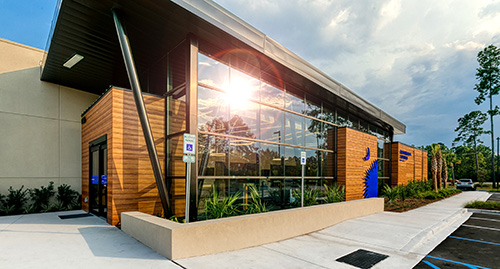 Our Cane Bay financial center is officially open! On July 20, we welcomed members at our newest location – 1736 State Road in Summerville – for the first time. We are thrilled to be able to serve you in our lobby, which is now open to limited traffic, and continue providing expanded services through our drive-thru lanes.
"Opening the doors to our Cane Bay financial center was a significant milestone for us," explained Scott Woods, President and CEO of South Carolina Federal. "We've served the Lowcountry since 1936, and in that time the Summerville area has grown tremendously. By growing alongside our communities, we can continue to offer convenient service for our members where they live, work, and play."
Though opening a new financial center is always a reason to celebrate, Cane Bay was particularly exciting. This location is our first ground-up new build in over 10 years, and the building itself is simply beautiful. It features large glass windows, wood accents and our iconic palmetto tree and moon logo front and center.
The inside of the building was designed so members have a variety of options for conducting transactions and managing accounts. There are conversation stations for general questions and account help, a teller line for routine transactions, and several office spaces for more in-depth needs and consultations.
Another highlight for membership? The location, Wallace explained. "Members who live or work in Nexton, Cane Bay, and the surrounding areas are thrilled to have a more convenient financial center to visit. We're right in front of a busy shopping center with popular grocery and retail shops, so members can easily swing by the credit union while running other errands."
Although many of our interactions with members are happening via drive-thru due to the pandemic, Wallace and her team have still been able to get to know their newest members and find ways to make Life Simplified for them.
"We've been having a lot of conversations with members about auto refinancing given the current rate environment," noted Wallace. "Mortgages are also top of mind for members, especially for first time home buyers wondering if now is the right time to buy."
No matter what your needs are, our Cane Bay team looks forward to serving you soon, whether you choose to visit our lobby or use our drive-thru lanes.