Stop In and Say Hello! Coventry Financial Center in Myrtle Beach Is Now Open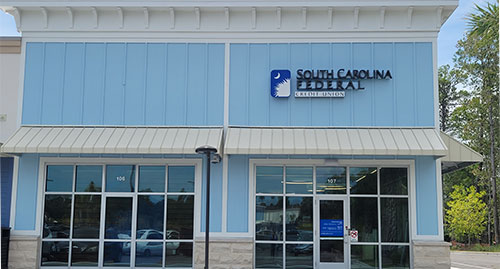 Come by and visit our newest location - the Coventry financial center in Myrtle Beach! Located at 970 Wood Duck Drive, Suite 107, inside the Coventry Marketplace, this full-service financial center comes equipped with an Online Banking kiosk, one drive-thru lane, 24/7 ATM access, and is available to serve all of your financial needs from teller transactions to new account and lending services. The lobby features a large-scale photographic mural of the Myrtle Beach State Park Pier at sunrise, paying homage to the area's serene coastline.
"We are thrilled to open our first location in Horry County and expand our presence along the coast," said Kevin Kosco, senior vice president of retail sales and service for South Carolina Federal. "We've been serving members in the Lowcountry for over 85 years, and we are excited to do the same in Myrtle Beach."
We currently have 28 financial centers across the state. Our Coventry location is about 30 miles north of our nearest financial center (located in Georgetown), allowing us to better serve members in the Grand Strand area, especially those who live or work north of Murrells Inlet.
"We love the charm of the area and think it is the perfect place to establish our presence in Myrtle Beach," said Marie Biser, Coventry financial center manager. "We're located in a busy shopping center right next to a growing neighborhood, so members can easily swing by the credit union while running their errands."
Biser, who joined the credit union in February 2023, has worked in financial services for over 30 years. Her extensive industry experience, familiarity with the Myrtle Beach area, and passion for helping people made her an ideal fit for her role and the credit union.
In her personal time, Biser enjoys crabbing and fishing with her family at Cherry Grove. She was a Special Olympics basketball coach for over five years, and has already enjoyed volunteering with her fellow South Carolina Federal team members at local nonprofits, such as the Lowcountry Food Bank.
The Coventry financial center lobby is open from 9 a.m. to 5 p.m. Monday through Friday, and the drive-thru is open 8:30 a.m. to 5 p.m. Monday through Thursday and 8:30 a.m. to 5:30 p.m. on Fridays.
Stop in and say hello! We would love to welcome you into our newest location.