Employee Spotlight: Matt Powell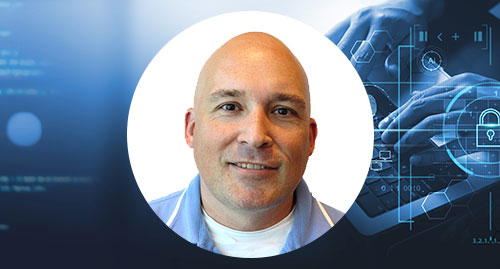 In honor of Cybersecurity Awareness Month, our #EmployeeSpotlight features Matt Powell, Vice President of Information Security. Matt began his career as a PC Technical Specialist in October, 2001. In his current role, Matt creates cybersecurity policies and procedures for the credit union to help protect our member's data and personal information.
Matt is passionate about cybersecurity in the workplace and the role it plays in our personal lives. He believes now more than ever consumers are relying on digital services to manage their day-to-day lives, and as a result, the more information they share about themselves online, the possibility of becoming a target of cybercrime increases.
In the world of cybersecurity, there's always something new to learn and exciting advances in technology to research.
To protect your information online, Matt recommends you routinely update all of your devices – cell phones, tablets, and home computers – with the latest security patches. He also suggests that you create strong passwords for each site, avoid using the same password repeatedly, and stay informed about current scams. One helpful resource Matt recommends is the consumer.ftc.gov/scams site, which helps consumers stay up-to-date on the latest scams and how to avoid them. Taking these steps is a prudent way to maintain your safety and security online.
Matt's favorite part about his role at the credit union is the opportunity to align his passion with his career. He appreciates the support and benefits the organization provides, including educational assistance programs that allow him to further develop his skills. "It's truly a place where I can grow not only as a professional but as an individual," he said.
Thank you, Matt, for your knowledge and guidance that keeps us safe in an increasingly digital world. Your dedication and leadership in the area of cybersecurity makes a difference for the credit union and our members!