Employee Spotlight: Silvana Bravo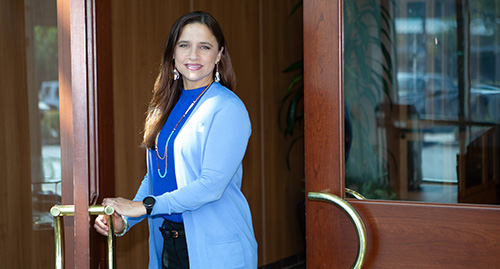 In honor of Women's History Month, we are delighted to feature Silvana Bravo, the Contact Center Manager, as our next #EmployeeSpotlight.
Silvana is a remarkable leader who has worked at the credit union for over 10 years. She began her career at South Carolina Federal as a Contact Center Team Lead and worked her way up to her current role. As the Contact Center Manager, Silvana is responsible for ensuring our members receive Blue Ribbon Service when they contact the credit union. When asked what her favorite part about being a leader is, Silvana said, "Although it is tough to see my team leave the contact center, seeing them grow within the organization is the most rewarding part."
Her commitment to excellence has also earned her the respect and admiration of her colleagues, who describe her as a role model and mentor. Silvana believes women can support each other in their organization by praising their success and attributions.
"We should publicly celebrate and recognize hard work to empower each other and create a positive workplace environment, where women feel respected and valued."
Apart from her work at the credit union, Silvana is also an active member of her community. She enjoys spending time with her family, teaching fitness classes, and volunteering at the Charleston Animal Society. Her generosity and compassion have made a difference in the lives of many.
Silvana is an outstanding employee whose hard work, dedication, and leadership have made her an inspiration to her team. Thank you for bringing your passion to work and ensuring our members receive superior service – we appreciate you more than you know.