Employee Spotlight: Austin Philpott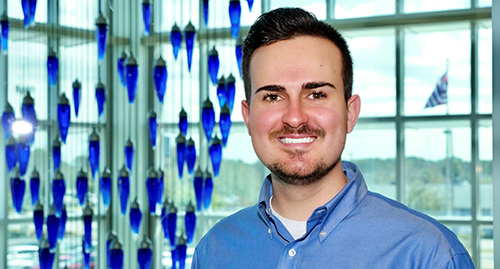 For this month's #EmployeeSpotlight, we are excited to highlight Austin Philpott, a dedicated team member who is passionate about fostering inclusivity, embracing diversity, and creating a supportive environment for all. As a Financial Sales Representative at our Rivers financial center, he finds joy in connecting with our members and supporting their journey to financial well-being.
With a passion for helping members achieve their financial goals, Austin has thrived in his role over the past four years. "My favorite part about my job is building strong relationships with members and helping them improve the financial condition of their lives," he says. "By listening and understanding our members needs and goals, I can help them work toward their goals and make financial well-being a reality."
Austin is also an active member of our Diversity, Equity, and Inclusion Council, where he advocates for an inclusive workplace that celebrates similarities and differences. As Pride Month comes to an end, he emphasizes the importance of breaking the stigmas that surround the LGBTQIA+ community. "Pride Month represents an opportunity to break down the stereotypes and promote understanding and acceptance for this diverse and vibrant community," said Austin. "By embracing our differences, we can create a world where everyone feels celebrated."
One nonprofit Austin is passionate about supporting is We Are Family, which aims to provide affirming spaces for LGBTQI+ and ally youth. "I personally understand the difficulties surrounding our community and I recognize the importance of pouring into the younger generation," said Austin.
Thank you, Austin, for your dedication to making a difference at South Carolina Federal. Your passion for building relationships, supporting diversity and inclusion, and promoting authenticity continues to have a profound impact on our members and Team Blue. Your commitment to excellence serves as an inspiration to us all, and we are truly fortunate to have you as part of our credit union family.