New Spartanburg Financial Center
Now Open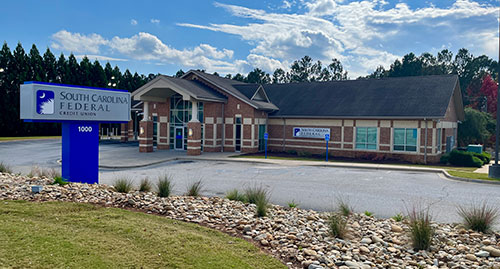 Our new financial center in Spartanburg is now open! Located at 1000 Asheville Highway, this financial center offers even greater accessibility and convenience for our members.
When coming through the doors, you will be welcomed by our friendly staff who are ready and able to assist with all your banking needs. This new location offers three teller stations to serve you - whether you need to make a deposit, withdraw money, or simply need quick assistance with your account. From there, five spacious offices await your more complex needs, such as opening new accounts or applying for a loan. Outside the financial center, you will find three full-service drive-thru lanes and a 24/7 ATM.
Our new financial center allows us to better serve and assist our members in the upstate," said Kevin Kosco, senior vice president of retail sales and service at South Carolina Federal. "We know that many folks still prefer to conduct their banking in person, which is why we continue to invest in these helpful physical locations."
We currently have 28 financial centers in South Carolina and are continuing to grow our presence in the upstate. In September, we opened a financial center in Mauldin (located at 111 N Main Street), and we will open a financial center in the Five Forks area of Greenville in 2024, which will be located at 2536 Woodruff Road in Simpsonville.
"Though this location is new, our team is not. South Carolina Federal has been helping people meet their financial goals for more than 85 years," says Robert Ellison, financial center manager at Spartanburg. "My team and I look forward to welcoming you to our new location and showing you why Forbes named South Carolina Federal the No. 1 credit union in the state."
Ellison, who joined the credit union in May of 2017, has more than 30 years of experience in lending and financial services. He is a Spartanburg native and is passionate about mentoring young people and working with at-risk youth in his spare time.
The Spartanburg Financial Center lobby is open from 9 a.m. to 5 p.m. Monday through Friday, and the drive-thru is open 8:30 a.m. to 5 p.m. Monday through Thursday and 8:30 a.m. to 5:30 p.m. on Fridays.
Stop by today! We look forward to serving you.