Celebrating Excellence: South Carolina Federal Recognized for Strength and Security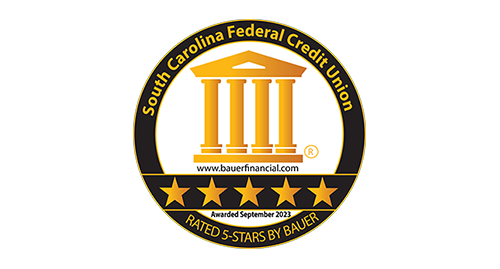 At South Carolina Federal Credit Union, we are dedicated to our members' financial wellbeing. While this includes providing you with the right products and services, it extends beyond that for us. It drives the dedicated member service we deliver, and the decisions we make daily to ensure the credit union's continued financial security and viability. It is with immense pride and gratitude that we highlight an important aspect of that financial security - our 5 star-rating from Bauer Financial, an independent research firm that ranks the strength of banks and credit unions. We have been a 5 star-rated credit union since 2011, and have received this superior rating for 49 consecutive quarters.
Why a Bauer Financial rating matters. Bauer Financial is renowned for its rigorous evaluation of financial institutions. Bauer's rating system assesses key factors, including net income, total loan production, total assets, and loan delinquency. To receive a 5 star-rating, an institution must excel in all areas, demonstrating not only stability but also a forward-thinking approach to financial management.
How we maintain financial security. Achieving this rating is no small feat, and it is a testament to the strength of our credit union. We have worked tirelessly to establish a solid foundation, enabling our organization to weather economic storms and provide you with the security you deserve. Your trust is critical in everything we do, and we believe this rating demonstrates that your trust is well-placed.
Our credit union embodies a conservative financial strategy. We prioritize safety and soundness over quick gains, which helps ensure we are well-positioned to navigate the various ups and downs inherent with economic environments.
What this means for our members. Our 5 star-rating from Bauer Financial represents that when you trust us with your financial needs, you are choosing an institution that places security at the forefront of all we do. It means that your savings and loan decisions are in capable hands, and are backed by a stable and dependable credit union.
Though we have grown significantly since our founding in 1936, our values and mission remain steadfast. Our employees are dedicated to keeping your money safe and helping you improve your financial wellbeing. When you entrust us with your financial needs, you can rest assured that we will continue making safe, reliable, and prudent financial decisions that ensure you and your family are protected now and in the future.
Where we go next. While we are enormously proud of this achievement, we are not resting on our laurels. We are constantly evolving, adapting to industry changes, and working to better serve you, our valued member. We will continue to prioritize financial safety and soundness and advocate on your behalf.
Your financial wellness is our top priority, and maintaining fiscal soundness is a cornerstone of our mission. This 5 star-rating from Bauer Financial is more than just an accolade; it is a promise to you that we will continue to uphold the highest standards of financial safety and security. Thank you for your trust; we look forward to continuing our future of financial success together.