Celebrating 85 Years with $8,500 Donations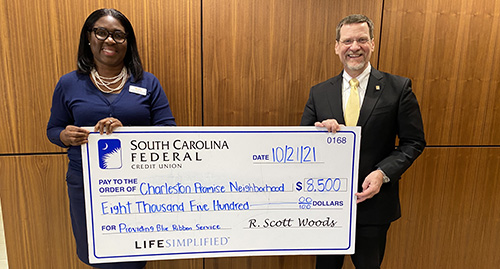 Eighty-five years ago, 14 naval shipyard workers joined together to start a member-owned financial institution. Since our founding in 1936, we've changed our name, expanded to new markets, and grown from 14 members to more than 165,000 members. Though our beginnings were humble, we are proud of the progress we've made in 85 years, and we are honored to celebrate it with the people who made it all possible – that's you – our members!
When we look back at our history, it's hard to ignore how much we've grown – not just in terms of our membership or the markets we serve, but also the technology we've introduced and the new products and services we offer. We also can't forget about the "Best Credit Union" and "Best Financial Organization" awards we've earned from local, national and industry media, and the exciting milestones we've reached along the way.

But what we're most proud of is what we've done for others. Every year, we award $50,000 in scholarships, our employees log more than 3,000 hours of volunteer time, and we donate hundreds of thousands of dollars to local nonprofit organizations.
"Many things about our credit union have changed since we were founded 85 years ago, but one thing has not: our dedication to serving the underserved and giving back to our communities," said Scott Woods, president and CEO of South Carolina Federal. "One way we decided to celebrate our 85th anniversary was by recognizing and thanking nonprofit organizations in South Carolina who go above and beyond to serve their communities."
We selected three local nonprofits who also serve the underserved and made $8,500 donations to each in honor of our 85th anniversary. We are thrilled to announce the three organizations we selected:

Charleston Promise Neighborhood
Charleston Promise Neighborhood (CPN) provides and facilitates comprehensive programs and services that support children, strengthen families, and mobilize residents to action. Founded in 2010, CPN currently offers programming and services to four early learning and elementary schools in under-resourced Charleston neighborhoods: Sanders-Clyde, Mary Ford, Chicora and James Simons.
By focusing on education, healthcare and community, and family engagement, CPN has given children a better chance for a bright future and increased access to opportunities for students and their families. Through CPN's work, hundreds of children have participated in afterschool and summer programs, received health and medical services, and attended community events and family fun nights.
CPN believes all children should be valued, respected, and treated equally regardless of the neighborhood in which they live. They work to ensure the children they serve receive quality education, have access to health services, and get opportunities to learn about the world beyond the few blocks where they spend most of their time.
If you want to get involved with the work CPN is doing, visit https://charlestonpromise.org/ to learn about volunteer opportunities or how to donate.

Harvest Hope Food Bank
Harvest Hope Food Bank is South Carolina's largest food bank. It provides over 22.6 million meals to neighbors in need across the Midlands, Pee Dee and Upstate every year, and it aims to eliminate hunger and food insecurity in South Carolina. Harvest Hope operates programs that provide food for South Carolina's most vulnerable citizens – children, seniors, and rural residents who don't have access to grocery stores. The organization runs emergency food pantries in Columbia and Greenville, where anyone in need can get a week's supply of groceries for free. One of Harvest Hope's main goals is to get food that may otherwise be wasted onto the tables of food insecure households. To make this happen, the organization partners with local grocery and retail stores in the area for its food rescue program. This program allows Harvest Hope to rescue food from retailers, like day-old bread, that is approaching or just reached its printed "expiration" date and then distribute it to those in need. Each item is hand inspected to make sure that it meets all food safety guidelines.
One in six South Carolinians struggles with food insecurity and hunger, but there are plenty of ways you can help. Visit https://www.harvesthope.org/get-involved to learn about hosting a food drive, donating food or volunteering.

One80 Place
One80 Place is the largest provider of comprehensive homeless services in Charleston. At One80 Place, everything they do is grounded in the core belief that everyone deserves a home. They meet the immediate needs of those facing homelessness with the ultimate goal of permanent housing. One80 Place has evolved to make housing-assistance its core service, and in 2021, it helped more than 900 individuals maintain or find new housing.
The organization operates two shelter dormitories – one for men and another for women and families – on its campus in downtown Charleston and has two auxiliary offices in North Charleston and Columbia, serving mostly veterans. People seeking services at One80 Place now have access to civil legal aid as well as primary healthcare, access to the community kitchen which serves over 100,000 meals annually, a culinary training program, and case management services. These services are designed to quickly move individuals and families back into homes of their own.
One of One80 Place's most notable programs is its five-week culinary training program that gives participants the skills and training they need to work in restaurant kitchens. Graduates of this program are connected to local restaurants so they can obtain full-time employment and secure stable housing. Veteran support is another focus for One80 Place, which works to ensure that those who answered the call of duty always have a place to call home. In 2021, One90 Place helped 491 veterans in South Carolina avoid or end their homelessness.
If you want to help One80 Place end homelessness, visit https://www.one80place.org/help-out for links to donate or to learn about volunteer opportunities. "These organizations may have different missions, but they share a common purpose: solving today's challenges while building better tomorrows," said Woods. "We are so proud to support these incredible folks and the life-changing work they do in our state."
Congratulations to Charleston Promise Neighborhood, Harvest Hope Food Bank, and One80 Place for being selected for an $8,500 in honor of our 85th anniversary. Thank you for everything you do for the communities you serve – your efforts make a difference that cannot be overstated.