Clover® Business Solutions*: Get Paid Faster.
Tap into ecommerce solutions
Seamlessly integrate payments on any website.
Set up a point-of-sale system
Track inventory and create a database of your products.
Live, local customer service
Connect anytime to do a banking change, get PCI compliant, and more.
Putting money back into your business as quickly as possible is key to effective cash flow. That's where Merchant Services Payment Processing Solutions come in. We work with First Data Merchant Services to optimize your credit and debit card processing to ensure that it's super-efficient and cost-effective, while still providing our members with quick and convenient payment options. Best of all, the merchant representatives are local people who are always ready to help.

Ecommerce Solutions
Flawlessly integrate payments on any website. Need a shopping cart to sell your item? We have you covered. With our custom APIs and web-based payment modules, you can sell on the market that never sleeps: the internet.

Point of Sale (POS)
Need to track inventory or create a database of your products? Clover can help with all your POS needs. Plus, Clover integrates with most of the major POS systems quickly and easily.
Clover Go - All-in-one contactless, chip and swipe card reader that wirelessly pairs with a mobile device.
Clover Flex - Accept payments tableside, in-line, on the floor, or off premises with this handheld portable POS. Includes: Built-in receipt printer, camera, and QR scanner in a single device.
Clover Mini - Compact, countertop system with full-scale POS functionality that can connect to cash drawer.
Clover Station - All-in-one countertop, POS and business management system that enables you to run your business efficiently.
Clover Station Pro – Our fastest, most customer engaging POS built for speed, simplicity and security.
Clover Virtual Terminal - Start taking payments with no hardware.
Live 24/7 Customer Service
Tired of calling your provider and staying on the phone for hours? Clover has live 24/7 customer support. Whether you're looking to do a banking change or get PCI compliant, Clover provides 24/7 customer support to help you do just that.
Frequently
asked questions
We have partnered with Clover® Business Solutions to give our member's the ability to accept debit and credit cards as forms of payment. Funds are deposited directly into the business checking account within 72 hours of the transaction. All major cards are accepted.
How to get started:
A Clover® representative will contact you regarding your application and answer any additional questions you may have.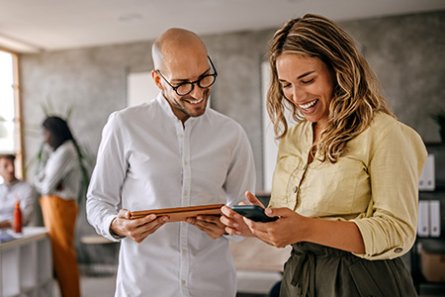 Get the credit card that gets down to business.
Purchasing power and cost control combine in this business rewards credit card.
*
Services are not provided by South Carolina Federal Credit Union, and South Carolina Federal makes no representation or warranties regarding the services offered. Terms and Conditions subject to change without notice.
© 2020 Clover Network Inc. The Clover name, logo and related trademarks are owned by Clover Network, Inc., and are registered or used in the U.S. and many foreign countries. Merchant services are provided by First Data Merchant Services LLC dba Clover Business Solutions. All trademarks, service marks and trade names referenced in this material are the property of their respective owners.