Hurricane Readiness Guide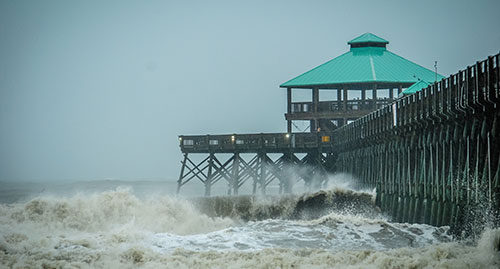 The Atlantic hurricane season began June 1 and ends November 30, with peak activity typically occurring in mid-September. Those dates are about the only predictable factor of hurricane season. In some years we may see fewer than five named storms while in others years we may see 15-20. Projected storm paths change frequently, and hurricanes can seem to pop up out of nowhere. Unless you have a crystal ball, the best way you can be prepared for a storm is to be ready long before it appears on the news.
Here are some helpful tips to help you prepare for these types of storms.
Before a Hurricane
Complete regular maintenance on your home to reduce the risk of damage. Ensure that windows and doors are properly caulked and sealed, repair any cracks or holes in the siding of your house, and remove any dead trees or overgrown shrubs from your property.
Make sure you have proper insurance coverage in place. Typically, once there is a named storm being tracked, insurance companies stop issuing new policies or accepting coverage changes to existing policies.
Gather all of your insurance policies and make electronic copies, if possible. Read the policies and note the website and phone number required to report a claim. Make sure that your insurance agent has your current contact information.
Determine if you need flood insurance in addition to your homeowners' insurance policy, which typically will not include coverage for flood damage. Flood insurance usually requires a 30-day waiting period before coverage begins, so don't wait until a storm hits the forecast to take action.
When a Hurricane Is Approaching
Take pictures and/or videos of the inside and outside of your home to show its "before" state in the event the storm causes any damage.
Remove any objects from the outside of your home that could get picked up and moved around, such as furniture on your porch or deck, kids' toys, and outdoor decorations.
Prepare an emergency supply kit that contains food and water, medicine, and power sources (such as flashlights and extra batteries). Don't forget to include necessary items for your children and pets in your supply kit. A good rule of thumb is to have three days-worth of items per person/pet.
During a Hurricane
If you evacuate:

Take your emergency supply kit with you.
Follow the roads that emergency workers recommend, even if there is traffic. Other routes may be blocked or too dangerous to drive.
If you have pets, take them with you or drop them off at a safe location with a trusted caregiver. Contact your local animal shelter to see what resources they may offer.

If you remain in your home:

Help lessen the impacts to your home by using sandbags to divert water from entering through doorways and cover windows with boards to protect them from debris.
If power is lost, keep the refrigerator closed to trap cold air and delay spoilage of food.
After a Hurricane
When it is safe to do so, assess potential damage to the outside of your home and check for loose power lines, gas leaks, and structural damage. Document any damage incurred during the storm, including photos and videos whenever possible. If your home sustained any damage, contact your insurance company as early as you can after the hurricane passes.
Do not throw anything away that might affect your claim unless explicitly cleared to do so by your insurer. It is important to keep damaged items as-is for an adjuster to see.
If you make temporary repairs, keep accurate records of your expenses and save all bills/receipts as they may be reimbursable under your policy. Even if you have full coverage on your insurance policy, you still have an obligation to try and mitigate any damage by taking actions such as boarding up broken windows or putting a tarp on your roof.
Be mindful of insurance fraud, which is a common problem following a serious storm. Avoid scams by getting estimates from multiple contractors, checking credentials, and asking for a detailed contract before paying a contractor or committing to anything in writing.
The team at South Carolina Federal Insurance Solutions believes in the power of preparation. Hurricane season may be unpredictable, but with advance preparation, comprehensive insurance coverage, and personalized support, you can protect yourself and your property against hurricane damage.
The advisors at Insurance Solutions can help you review your policy and determine whether you have enough coverage to repair or even replace your home in the event of an emergency. Visit scfinsurance.org to learn more.
For more information about storm tracking and resources to prepare, visit scemd.org.
*Insurance services are provided by South Carolina Federal Insurance Solutions, a wholly owned subsidiary of South Carolina Federal Credit Union.